RIM to introduce course in professional accountancy - BBS
Pema Seldon Tshering, Thimphu Jul 24, 2018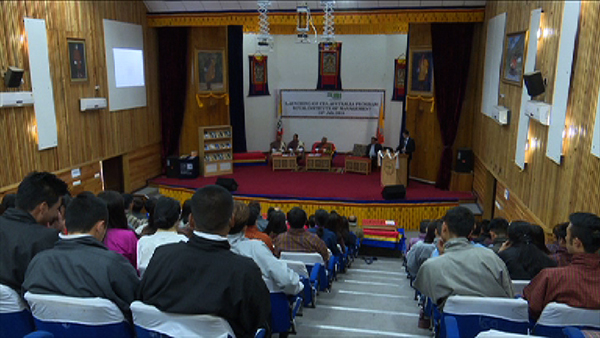 The Royal Institute of Management (RIM) will offer Certified Professional Accountant (CPA) program from next year. It will be the first professional accountancy course to be introduced in the country.
The course will be taught by the RIM faculty and the CPA Australia, one of the world's largest accounting bodies.
The introduction of CPA program is aimed at addressing shortage of professional accountants and accountancy firms in the country.
The Director General of RIM, Tshewang Tandin, said the government and corporations will not have to hire chartered accountants or professional accountants from outside the country for auditing works.
"We will have our own professional accountants to do the job," he said.
The program, which is recognized globally, is expected to provide professionals with job opportunities in other countries.
The Regional Manager of CPA Australia, Mark Chau, said the CPA program certifies accountants in professional capacity.
"In the accounting world, a university degree with an accounting provides you basic skills to do accounting work. However, the CPA program is a further certification to enable accountants to have ability to practice in different countries."
"You can apply jobs worldwide and can get employed if you are a certified CPA or CA," Labour Minister Ngeema Sangay Tshempo said.
The enrolment for the program will begin from October and the course from February next year.
For the first three years, the program will be offered at half the price.
Read More