Cordycep harvesters in Bumthang fetch lesser returns - BBS
Kipchu, Bumthang Jul 4, 2018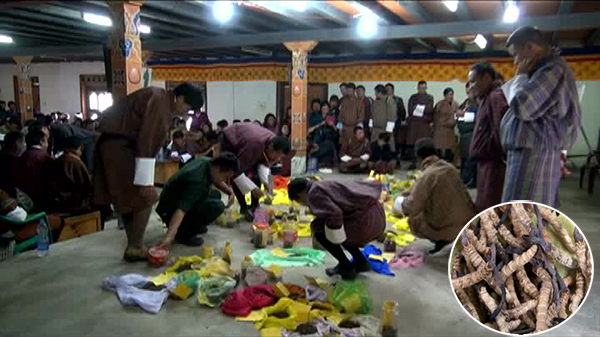 Unlike last year, cordycep collectors in Bumthang could not fetch good prices for their harvest at the auction, which ended yesterday evening.
Some say this could be because of the poor yield and low quality of the fungus while others believe it could be due to increasing number of collectors every year.
At the two-day auction, the best quality cordycep, which is graded A+ fetched Nu 2.2m for a kilogram. Last year, the top quality was sold at a record Nu 2.7m. The lowest quality was auctioned off at Nu 297,000.
"The price is disappointing this year even though we go through lots of hardships while collecting the fungus. Due to the poor yield this year, the prices were many times lesser than last year. I think the bidders have deliberately tried to keep the prices low this time," said Karma Tashi, cordycep harvester from Chhoekhor Gewog.
Some of the cordycep bidders also shared views on why the price of cordycep in Bumthang is low.
"The yield this year is not as good as the previous years. The price is not very high this year in Bumthang because this year Lunana is said to have the best quality cordycep," said Tashi Dendup.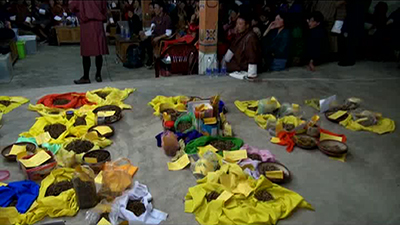 Some collectors also shared the irregularities on the prices of the cordyceps. They say cordyceps, which look similar in quality, are auctioned at different prices. This according to the auctioneers could be due to the choice of lot at which they put their cordyceps for sale.
Meanwhile, bidders claim that sorting of the cordyceps has to improve. Currently, the Sorting Committee, which comprises of a representative each from the concerned gewog administration, forest department, Bhutan Agriculture and Food Regulatory Authority, agriculture marketing and co-operatives department and a bidder, segregate the cordyceps into different grades.
"It's true that the prices for cordyceps from the same location fetch varying prices. This is due to the choice in the lot they make. For instance, if a collector chooses lot number one and if his cordycep is graded A Plus, the same cordycep might be downgraded if another batch of fungus surpass the quality of his cordycep if he chooses lot number 2," said Kencho Norbu, Tshogpa of Nangisphel-Zangling-Zhabjethang chiwog.
Bidders also share similar views.
"Some people withdraw their cordycep from the auction claiming irregularities in prices. This is due to inconsistency in sorting their lot by the collectors. It is also because of improper drying and caring of the cordyceps. Here, there are only 6 grades currently. If the fungi were classified from category A to Z, the question of irregular prices would be solved," said Ugyen Dorji.
This year, only over 40kgs of cordyceps were auctioned in Bumthang compared to over 100kgs last year. The cordyceps auction will be conducted at Saephhu Gewog in Wangdue Phodrang tomorrow.
Read More