New lam of JDWNRH, Zhung Dratshang's Zhu Dhap Chhungsho appointed - BBS
Pema Tshewang,Thimphu Jul 24, 2018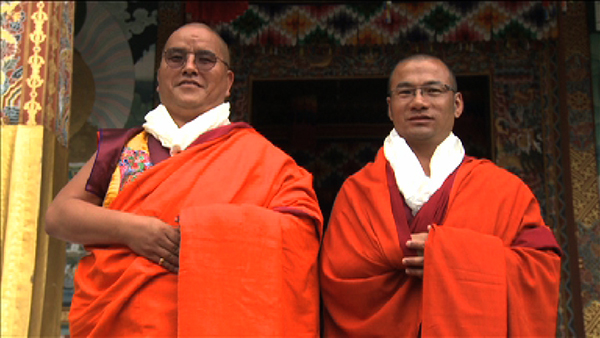 The Dorji Lopen of the Central Monastic Body conferred dhar to the new lam of the National Referral Hospital and Zhu Dhap Chhungsho or the vice principal of the monastic body at Tashichhodzong this morning.
47-year-old Lam Damchoe Gyaltshen from Saephu Gewog in Wangdue Phodrang is the Chief Lam of Jigme Dorji Wangchuck National Referral Hospital.
He joined the monk body at the age of 12.
Prior to his current appointment, he served as the Lam of Penden Cement Authority Limited (PCAL) in Samtse.
The new Zhu Dhap Chhungsho of the Central Monastic Body is the 35-year-old Lopen Yoenten Gyamtsho. He joined the Pung-Thim Dratshang at the age of six.
Lopen Yoenten Gyamtsho has received Buddhist teachings from the 68th Je Khenpo Tenzin Dendup. He served as the Umze of Chari monastery in Thimphu before assuming the current post.
The role of Zhu Dhap Chhungsho is to oversee Zhu Dhap Gom's responsibilities during his absence and carry out daily religious activities.
Both Lams completed Lo-Sum-Chho-Sum or three-year retreat at Drolung Goenpa in Thimphu.
Read More