Agreement on Grant Aid to develop human resources - BBS
Pema Tshewang, Thimphu Jul 3, 2018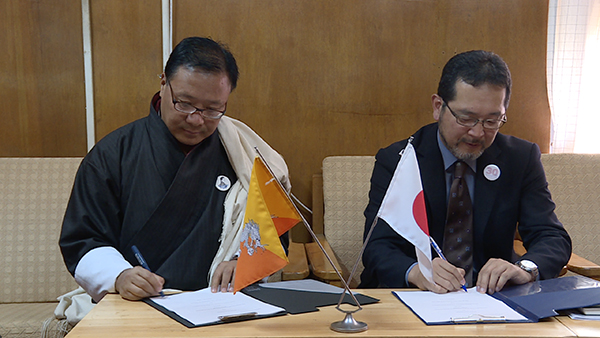 To develop human resources in various fields for the development of Bhutan, an agreement on Grant Aid, amounting to Nu 110m was signed between the Royal Government and the Japanese government in Thimphu today.
Under the project, different Japanese universities will offer 40 postgraduate slots in various Master's degree and PhD to Bhutanese public servants.
The project period will start from September 2019 with the sending of nine Bhutanese for master's degree and one for PhD.
The remaining candidates are expected to be enrolled before the project period ends in 2022. The Royal Civil Service Commission (RCSC) will implement the project.
"After consultation with the Japanese government in collaboration with JICA office, we have identified the scholarship programmes as per the need of country's developmental activities and human resources in the 12th FYP. After their studies, they will come up with the knowledge on how the government of Japan developed and this knowledge can be applied for development of our country too. Secondly, they will be also equipped with knowledge to combat against climate change," said Tashi Pem, Director of RCSC.
The Exchange of Notes for Grant Aid was signed between the ambassadors of two countries during the first-ever visit of Japan's foreign minister to Bhutan last month.
Read More