Residents in Thimphu sensitised on Package Pilgrimage Regulation - BBS
Kinley Dem, Thimphu Dec 19, 2017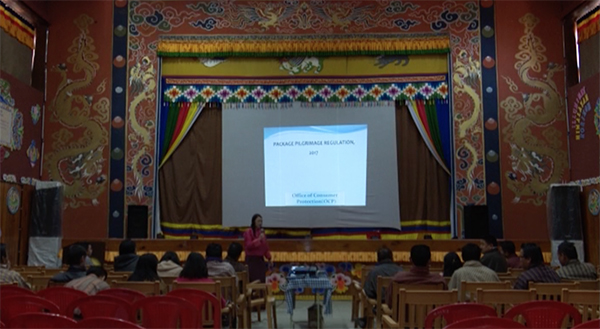 The Office of Consumer Protection under the Ministry of Economic Affairs sensitised residents in the capital on Package Pilgrimage Regulation, 2017, today.
The regulation applies to Bhutanese licensed pilgrimage operators who render pilgrimage related services for Bhutanese pilgrims travelling outside the country for spiritual purposes. It prescribes the minimum standards, procedures and responsibilities of pilgrimage operators, pilgrims, and the relevant implementing agencies.
The officials from the Office of Consumer Protection said, the regulation was framed also to benefit both tour operators and pilgrims if any untoward incident happens during the pilgrimage period. Residents were also familiarised on Consumer Protection Act, which ensures rights, safety, and access to accurate market information of the consumers, including inter alia, protection from unfair trade practices, false and misleading advertising, and abuse of monopoly power.
Read More