BKP reveals some of priorities from its manifesto - BBS
Changa Dorji, Thimphu Jul 22, 2018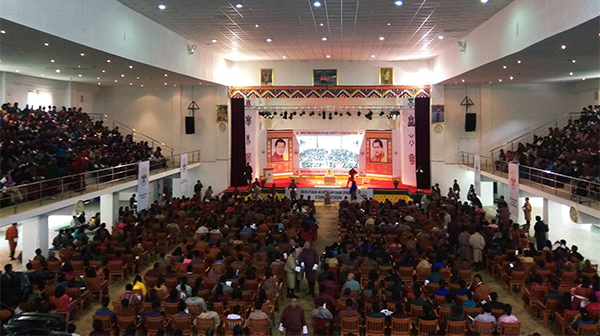 Bhutan Kuen-Nyam Party (BKP) revealed some of the priorities from its manifesto- "FOR A SELF-RELIANT BHUTAN: OUR CONCERN OUR RESPONSIBILITY," at the party convention in Thimphu yesterday.
The BKP said they will ensure equal opportunities, value harmony in the society- One Kingdom Equal Citizens, to remove all sorts of nepotism and discrimination in the civil service.
The party also pledges to provide the most enabling environment for the contribution of the private sector to Bhutan's prosperity.
Likewise, providing 100 per cent effective irrigation coverage and drinking water in all 20 districts is also of one of the party's pledges.
Among others include: investing every young Bhutanese to get well paying jobs within the country as well as in foreign countries.
The party also intends to establish a government that the people of Bhutan deserve and the international community expects.
The convention endorsed the party's executive committee, party coordinators of all 20 districts and 205 gewogs, and launched rules for their candidates.
The BKP introduced all their 47 candidates to the gathering of party supporters and coordinators.
The party has candidates from various backgrounds, comprising of former civil servants, businessmen, consultants, entrepreneurs and youth.
According to the party's press release, it has the highest number of women candidates (seven women), compared to three other political parties.
"We are more than prepared to embrace the upcoming elections in two months. Bhutan Kuen-Nyam Party has good representation of youth, because youth is our future," said Vice President of BKP, Sonam Tobgay.
The party also briefly introduced its President, Dasho Neten Zangmo to the gathering.
"Our president is perceived as an iron lady with her earlier responsibilities in the Anti-Corruption Commission, but is a soft hearted person," states the press release.
During the convention, the BKP's logo was also unveiled.
Bhutan Kuen-Nyam Party is one of the four political parties to contest the upcoming National Assembly elections.
The other three are: Druk Phuensum Tshogpa (DPT), People's Democratic Party (PDP) and Druk Nyamrup Tshogpa (DNT).
Read More